Most Popular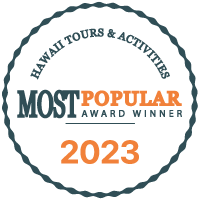 Address
280 Pua Pl. Wailuku, HI 96793
When it comes to booking activities and experiences in Hawaii, some tours are simply more popular than others due to their uniqueness, value, limited availability, or overall experience.
We know how important your Hawaii vacation is, and we don't want you to miss out on anything that you may want to see and do. We strongly recommend that you book these experiences well in advance, so that you can get the best dates, times, or even seats. If you are a part of a big group, the earlier you book, the more likely we can accommodate your party.
Take a look at our Most Popular experiences and activities in Hawaii and book a tour to save your spot today!