We love to provide our guests a fantastic experience on their vacation, and nothing can pull that off in a short time than a helicopter tour over beautiful locations. As a full service tour operator and agency, we know how to make traveling an amazing experience for our customers. Join our travel ohana (family) and feel taken care of during your next adventure.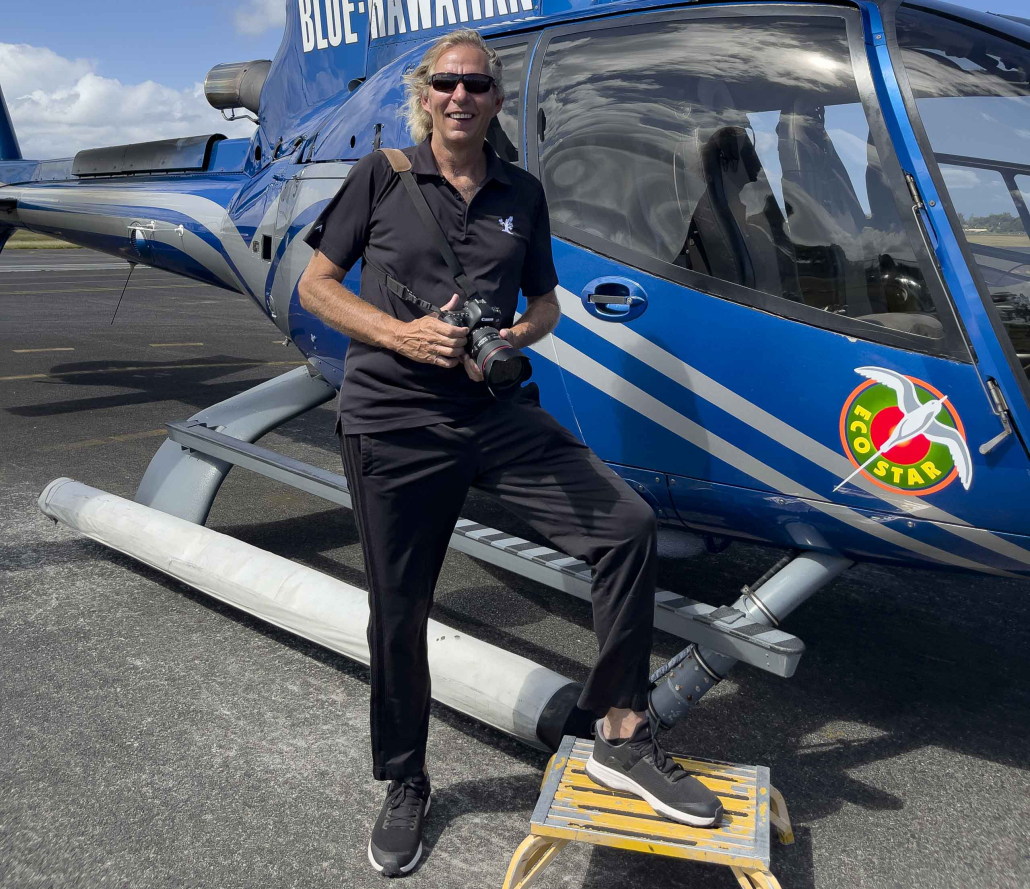 A Helicopter Tours Photographer And Agent
The story of our tour and travel agency starts way back in the 40's with a loving grandmother, working to set up trips to Hawaii. At that time the world was a lot "bigger" and getting here to Hawaii took a lot of experience to make the journey stress-free. Today, we follow that same tradition and although the world is a "little smaller", it's no less complicated in planning a vacation to Hawaii so you can maximize your precious holiday time, unwinding and relaxing, knowing that everything is taken care of.
Our team, spread across the world, has its roots here in Hawaii, one of the most frequented locations for helicopter tours in the world. There are many flight options in every region and we match you to the right one for your group's desires and budget. We love flying and the views you get from the air during our tours are nothing short of spectacular. We love to see you up here soon!
Our tour and travel agency specializes in Helicopter tours across the world and focuses on the health and well-being of our communities and environment. We provide outstanding service to everyone who interacts with us and encourage all our partners to adopt the best practices possible when operating. We vow to prioritize those helicopter operators that do the most good—your support means the world to everyone. We vow to work every day to make a positive impact in the areas we operate in and balance the needs of all parties so we can move forward together.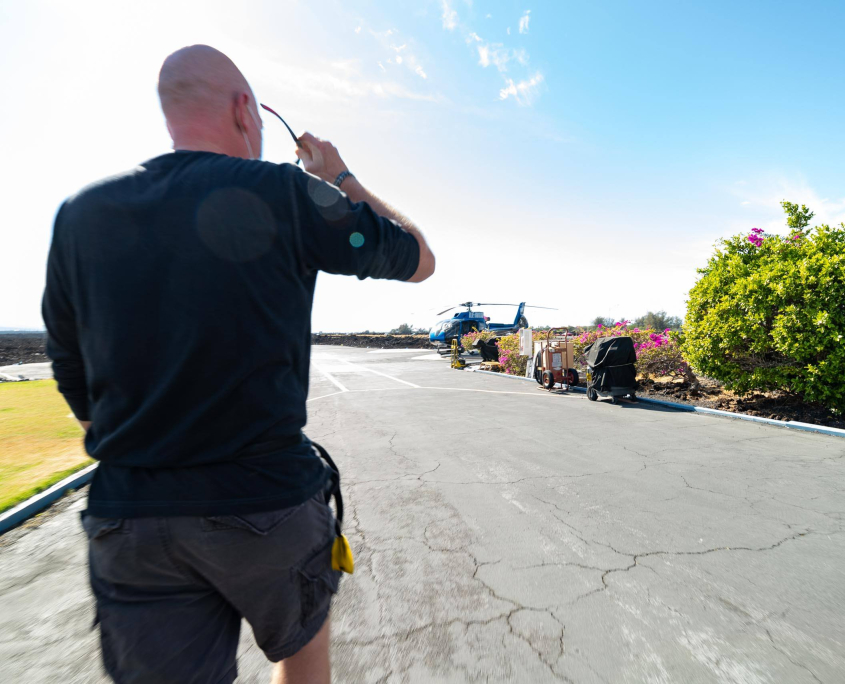 A Team Member At A Heliport
Our team, centered in Polynesia, has traveled throughout the world, and one of the things we enjoyed most was the helicopter trips. The perspective is absolutely breathtaking (it's what drove the drone craze) and needed in some locations, so you truly understand the significance of the places you then visit on the ground.
We started Helicopter Tours so that our guests have more great options to choose from, along with a dedicated team of professionals who want to make your next flight awesome! Contact us today to learn more about what we can do for your trip or book a helicopter tour in one of your favorite destinations now.
We Are Committed To Sustainability All Across The World
Sustainability Commitment Statement
Helicopter Tours proudly takes measures towards sustainability by initiating steps to ensure the utmost environmental responsibility across our operating practices. We enact practices that support the growth of our island community. We honor the cultural, historical, and ecological integrity of the islands and actively work to maintain them. That includes protecting the ʻāina, upon which we all live. To fulfill this promise, we have implemented these measures of sustainable commitment:
Environmental Management
Our tour operations maximize efficiency by avoiding frequently trafficked routes and times, wisely utilizing vehicle capacity for guest ridesharing, and centralizing vehicle locations. These operational tour measures greatly reduce our environmental impact.
Staff Management
Our guides receive extensive and ongoing training to ensure coverage of all needs for guests and staff. The safety and comfort of all involved are the priority. Guides are community members and have extensive knowledge of the island community, culture, and environment. We work towards a safe, responsible, and accommodating customer experience.
Staff is offered rewarding professional development opportunities on an ongoing basis.
Interpretation Management
Just as the cultures of Polynesia do, Helicopter Tours values sustainability. With the physical and genealogical roots of several Polynesian staff members, incorporating sustainability practices pays homage to both the cultural and professional practices of the Hawaiian land and people.
Customer & Employee Evaluation
Never stagnant, we seek guest feedback as a means to grow for our tour operations, making adjustments as needed. We seek guest feedback to tailor a positive experience further to continue to thrive.
We take pride in the tours we offer, highlighting positive guest feedback, and the staff gets rewarded. We continue to perfect the quality of our services and keep our guests feeling valued.
Marketing Execution
We maintain the utmost respect and complete transparency with our guests as we host them in our local communities. Our tours, marketing, and guest communication adhere to a policy of honesty and transparency. Our operations do not negatively impact our island community or culture.
Community Engagement
We work closely with the local community to improve cultural engagement and enhance the protection of the islands' precious natural resources. We seek partnerships with organizations focused on preserving and growing the historical, cultural, and social aspects of the local community. We are also proud associates of the Sustainable Tourism Association of Hawaii.